Recent Comedian Reviews
Show: All (default), Chambers, Christian, College, Corporate, Youth
River of Life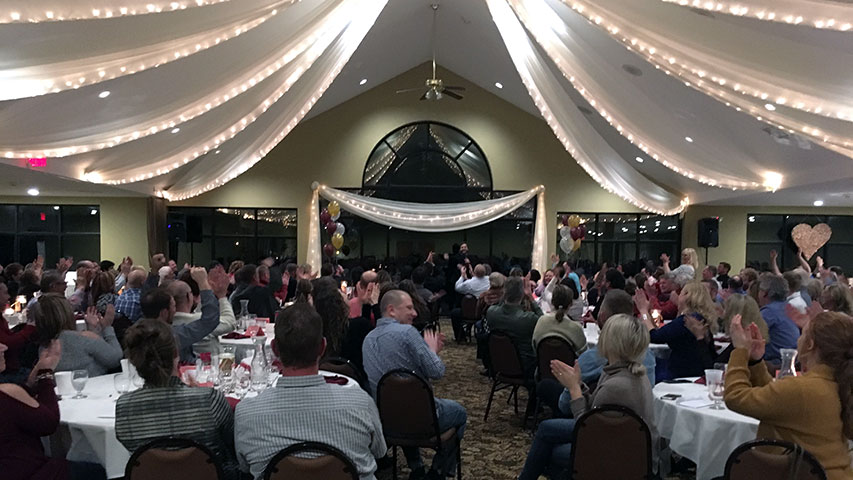 "John Felts was very personable with our group, taking time to meet with and joke with everyone after the event, I really appreciated that. He also did a great job of presenting material that was appropriate for our variety of age groups/couples. EVERYONE was enjoying his comedy and thought he was funny and felt engaged. Thank you for your time, especially after some flight delays/cancellations, it meant a lot to us that he made such an effort." - Planning Committee, Church Valentine's Dinner (Ramsey, MN) 2/11/2018
---
St. Matthias Parish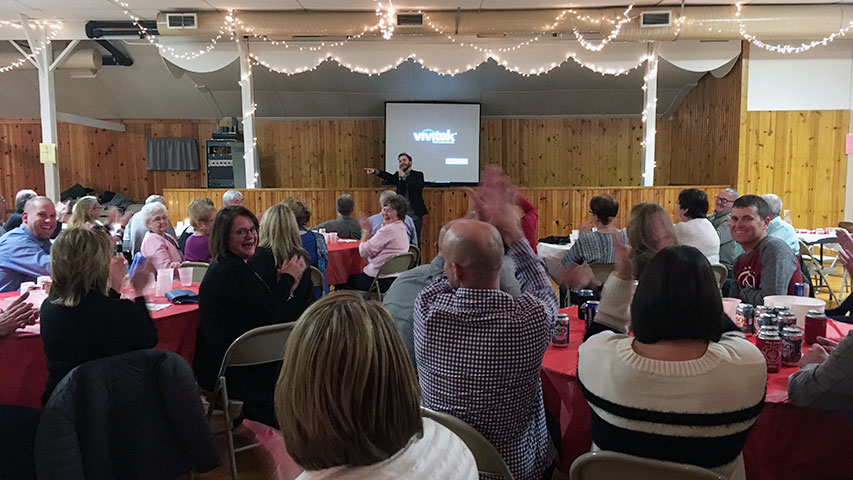 "John Felts did a fantastic job at our fundraising event! Our crowd had a wide range of ages and he managed to get everyone laughing! It was a very clean act that worked perfectly for our church crowd. John was very organized, put forth effort to learn about us beforehand, and was a joy to work with. We would definitely recommend him!" - Event Planning Committee, Annual Fundraiser (Cascade, IA) 2/10/2018
---
Texas AirSystems
"John Felts was awesome and on point!! Kept our group entertained and laughing the whole night! Would definitely recommend and will invite him back." - Houston Parts Leader, Awards Banquet (Houston, TX) 1/27/2018
---
Integrity Church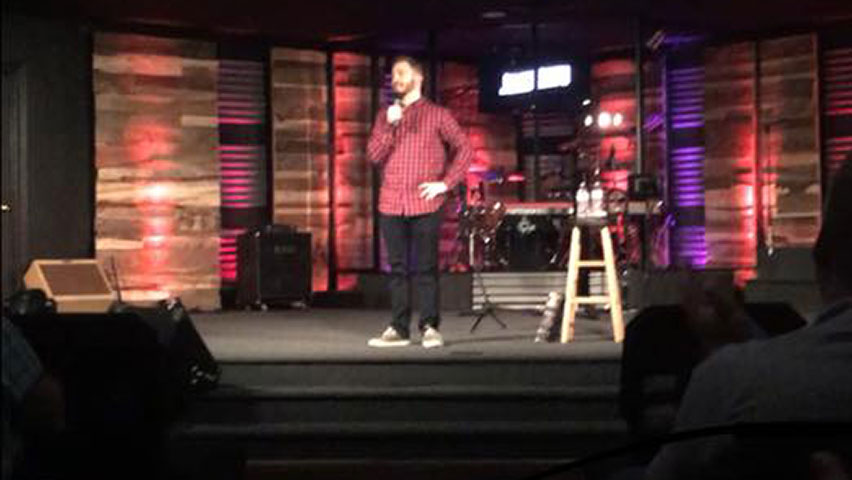 "John Felts' comedy show was exactly what we were looking for and more. John was the perfect mix of comedy and real conversation about current issues in our personal lives and in our world. On top of that, John Felts is just a great person to hang out with. John genuinely wanted to know about the church and how it was doing. John also wanted to know about the community so that he could fit the overall show to the community to touch as many people with laughter as possible. His personal touches, stories, and relevancy reached the oldest woman in our audience right down to the teenage students. Would we highly recommend John Felts? OH YEAH!!" - NextGen Pastor, Comedy Night (Burlington, NC) 1/20/2018
---
Lake Junaluska Conference & Retreat Center
"John Felts performed at one of our Winter Youth Retreats in front of a multi-denominational audience of about fifteen youth groups from churches across the Southeastern US. The youth and adults alike laughed constantly as he shared jokes and observations about parenting, youth group leadership and particiaption, church life, school life, marriage and more. He took time before his show to learn more about who was present in the audience and drew from that to ensure the audience felt he knew and understood them. He communicated well prior to the engagement, was on time for the show, worked well with our event leaders and tech crew, and showed real interest in our organization. I will certainly consider booking him again." - Program Director, Youth Winter Retreat (Lake Junaluska, NC) 1/13/2018
---
River Run Church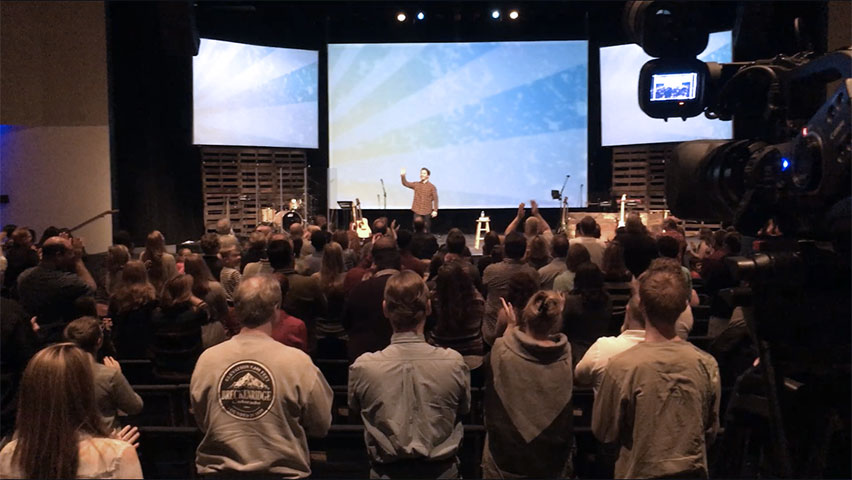 "John Felts was hilarious and spoke so well into family dynamics, interests our people have, life situations, and more. Our folks were laughing constantly, but the feedback we heard most was how much it meant to them that John took some of his own time to learn a little bit about the church and the area and be able to play off of that. To start out in a personal way and connect with our people on that level went over more than we can express. It was funny and light ribbing, but so meaningful in how it was tailored to our specific lives. We could not recommend John enough. Not only was he everything we just mentioned, he is an outstanding human as well. He was so gracious and helpful in working with our tech crew and the needs that he had for his show. He was humble as can be and helped make the day truly enjoyable all the way around. We still have people talking about it and will definitely be considering having him back in the future." - Director of Children's Ministry, New Years Eve Event (Chuluota, FL) 12/31/2017
---
First United Methodist Church of Grenada, MS
"We brought John Felts in as our late night entertainment for our youth retreat. John Felts was super easy to work with from the get go. He was a great addition to our retreat this year. He related really well to middle school and high school students. I would highly recommend him to anyone looking for a great clean comedy act." - Minister, Breakthru Retreat (Birmingham, AL) 12/29/2017
---
One Point
"John Felts entertained at our company Christmas party. He was super funny, clean and played to a wide audience. We couldn't have been more pleased with our experience with him." - Senior Vice President, Company Christmas Party (Pendleton, IN) 12/22/2017
---
The Refuge Church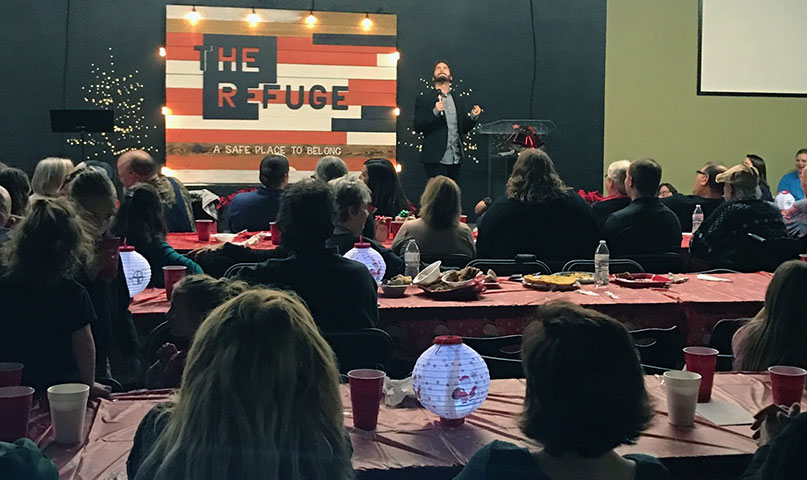 "This was our second year to have John Felts as our Christmas party entertainment. We were not disappointed. John is extremely funny. Very personable and always a joy to have. If you are looking for someone who will take a personal approach to your event and and keep your group entertained, I highly recommend John Felts." - Pastor, Christmas Party (Denison, TX) 12/17/2017
---
Cowart Mulch Products, Inc.
"I have spent most of this morning receiving compliments and positive feedback from the employees on the performance. John Felts was personable and had the room rolling in laughter. He was very professional and easy to work with and I would love to book him for any future events we have." - Accounting Specialist, Company Christmas Party (Alpharetta, GA) 12/9/2017
---
Internal Medicine and Pediatric Clinic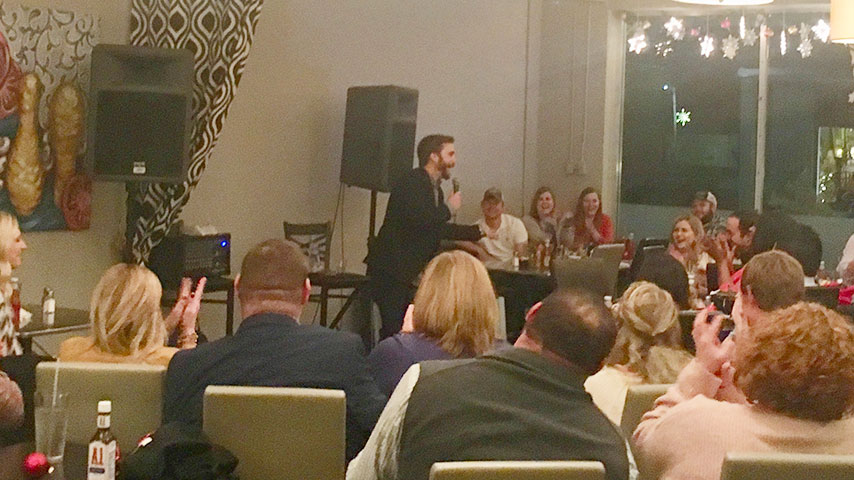 "John Felts did a fabulous job! He did a great job personalizing his presentation to our staff. He took the information we gave him and worked well with it. He was very easy to work with. He kept everyone entertained! We would love to have him again and highly recommend him to others!" - Marketing Director, Company Christmas Party (New Albany, MS) 12/3/2017
---
TruPoint Bank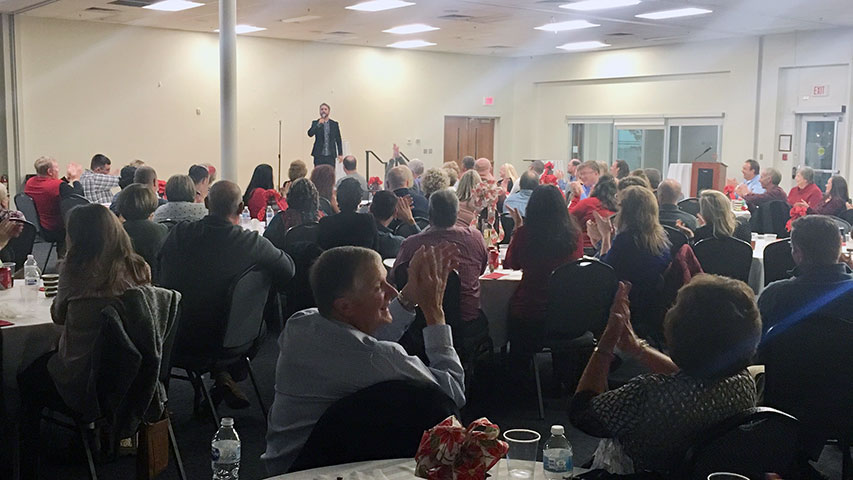 "John Felts gave a great performance at our Bank's employee Christmas Party! Everyone is still talking about how much they enjoyed the evening. I was impressed that he customized his performance to our group and also that he visited with employees during our dinner. Definitely recommend him for company events!" - Human Resources Director, Employee Christmas Dinner (Grundy, VA) 12/2/2017
---
Andrews University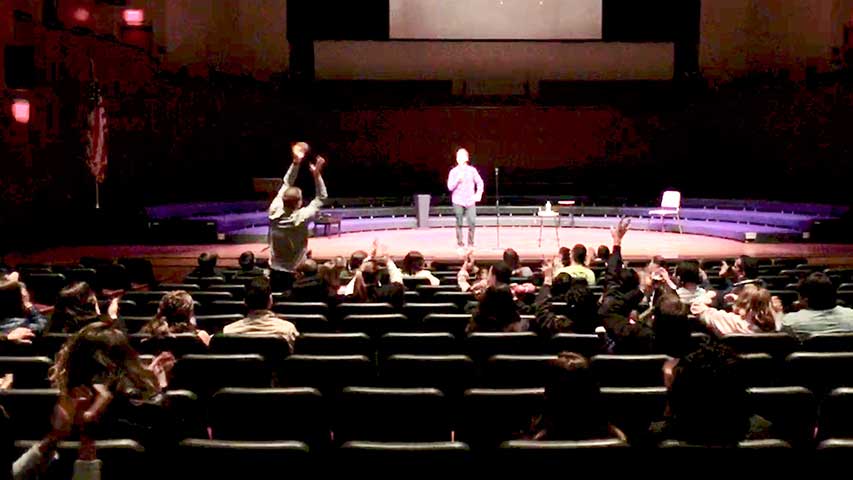 "John Felts was so great to work with. Not only did he kill his comedy routine, but he was so polite and fun to be around. The crowd loved him. We will definitely bring him back to our campus again." - Assistant Director of Student Activities and Involvement, Campus Comedy Show (Berrien Springs, MI) 11/11/2017
---
Freedom House
"John Felts killed it! Everyone had a great time and as we encounter people who were there the first thing they say is they loved the comedian! He helped us make a good impression on the people who we believe will be key to bringing our ministry into the next chapter of its evolution, and that is very important to us and the ladies we serve and will serve." - Business Director, Launch Event (Greensboro, NC) 10/17/2017
---
Special Olympics Wyoming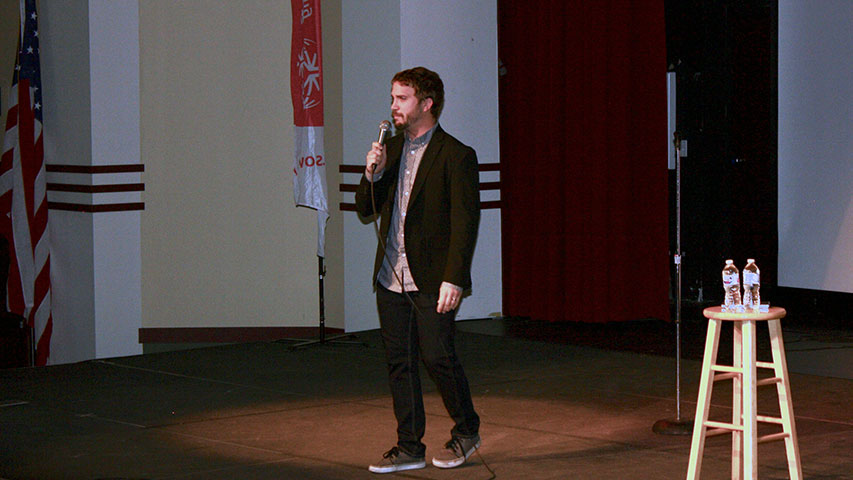 "John Felts did a wonderful job of localizing his presentation. He included local points of interest and people from the audience appreciated it. Very friendly and easy to work with." - VP of Development, Comedy Night Fundraiser (Rock Springs, WY) 10/14/2017
---
North Lamar Education Foundation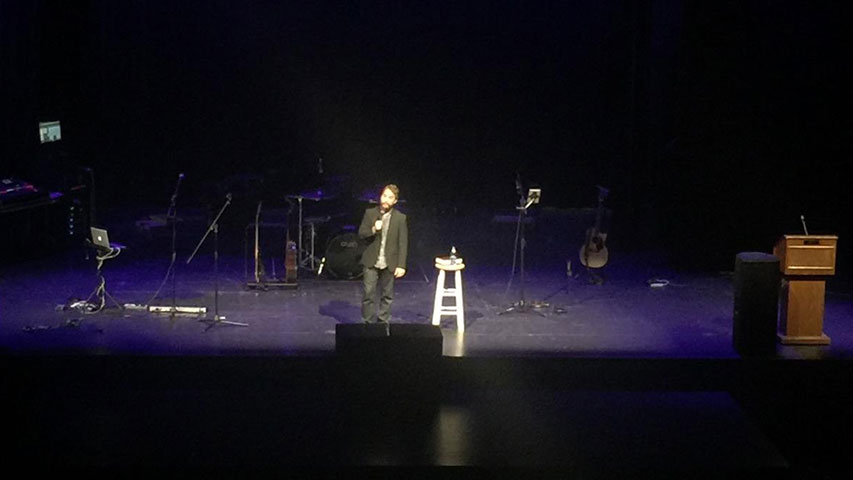 "John Felts did an amazing job! We didn't have the turn out that we had hoped and even with a smaller crowd, he entertained with great relevant jokes. He arrived as planned and was very professional and friendly. Our family talked about some of his jokes even after we were back at the house. Would highly recommend him!" - Treasurer, Annual Scholarship Fundraiser (Paris, TX) 10/6/2017
---
Central PA Youth Ministries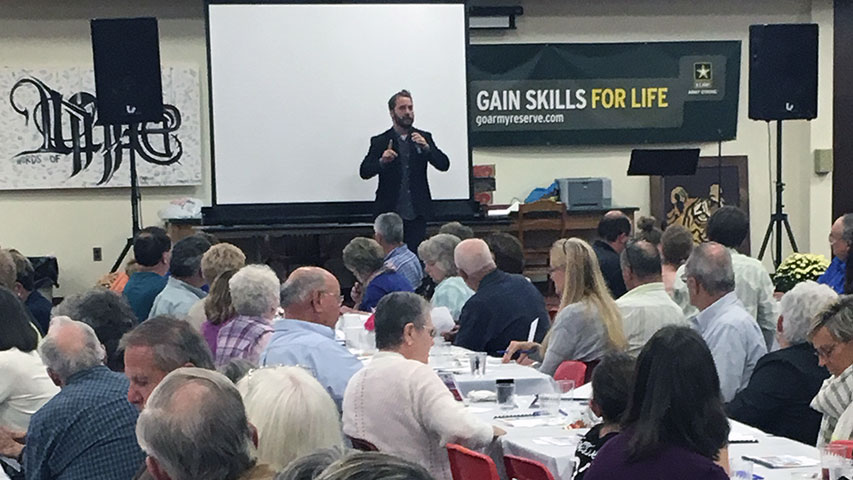 "John Felts did a great job. He was so easy to work with, doing everything just as we had asked him. Our crowds really liked him." - Executive Director, Fundraising Banquet (Selinsgrove, PA) 10/2/2017
---
Soma Memphis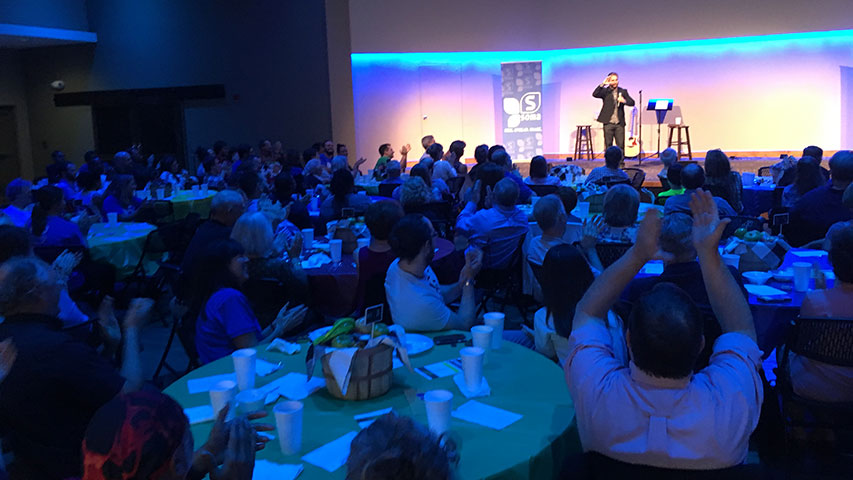 "John Felts was great and I highly recommend him. He is energetic and funny and he played well to a room that ranged in age from infant to grandparent. The audience laughter was nonstop through the entire show. He is especially good at taking the time to personalize his jokes to church or city where he is performing. He is also very good with audience interaction. He's very quick witted. He is also very professional and very easy to work with." - Director, Campus Ministry Fundraiser (Memphis, TN) 9/28/2017
---
Grace Baptist Church
"John Felts did an excellent job. Very funny and interactive with the audience." - Children's Director, Pre-Revival Meeting (Parkersburg, WV) 9/23/2017
---
Divine Savior Parish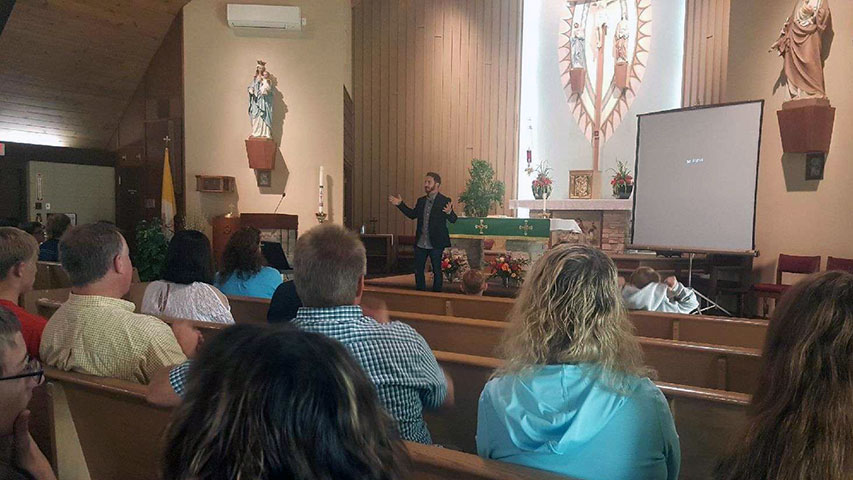 "This was the 2nd time we had John Felts at our parish for an event. He is very energetic and engaging. He knows his audience really well, and is very personable yet professional. He takes a lot of time getting to know the area and personalizes his routine to engage the crowd. I would recommend him for any group event. He is a wonderful comedian and entertainer. So very pleased!" - Director of Religious Education, Religious Education Orientation (Belgium, WI) 9/10/2017
---
Derbyshire Baptist Church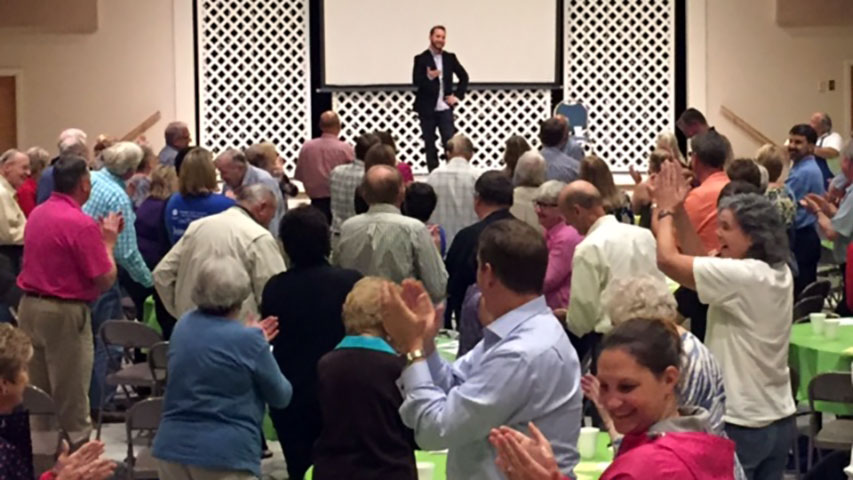 "I wanted to let you know how much we enjoyed John Felts and his comedy. He was so well prepared and his jokes were fresh. He helped us laugh at ourselves and look at the humorous side of who we are. It was laugh out loud funny - over and over again. As a matter of fact days after the event we are still laughing. We are trying to plan another event just so we can have John back again. I highly recommend John Felts for any group that wants to laugh and have a great time. Additionally John is easy to work with and he was a pleasure to meet. We know that anyone how invites John to be apart of their events will be thoroughly satisfied." - Pastor, Young Families Dinner (Richmond, VA) 9/6/2017
---
First Baptist Church
"John Felts did an outstanding job for our event. His material was personalized to our audience. I could tell he took time to research our area and tailor his performance to our people, our area and our event. He interacted with our audience well, especially given that it was outside and dark. Everyone I talked to afterwards loved him. John was also extremely easy to work with. He was prompt, very personable one on one, and worked hard to help make our event a success.I would highly recommend him to anyone looking for a fun evening of clean comedy." - Assistant to Pastor, Back to School Bash (Kaufman, TX) 8/16/2017
---
Cornerstone Church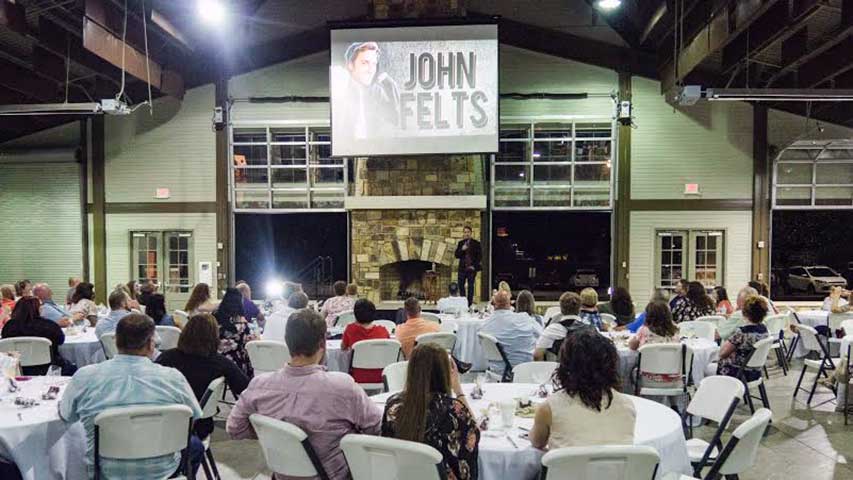 ""REFRESHING!" - over and over that was the phrase we heard from our church volunteers when talking about the banquet we hosted for them with John Felts as the entertainment. The personal touch he added with his thorough research of our church is what made his performance like no other. John was very funny, professional, and personable. He interacted with our people not only during the performance but before and afterward. We actually had a few volunteers think he was a new volunteer. I will definitely be recommending him to all of my Pastor friends. We believe, like the Bible says, "laughter is medicine" and we all got an overdose that night!!" - Pastor, Volunteer Appreciation Event (Decatur, AL) 6/9/2017
---
Crossing Over Inc.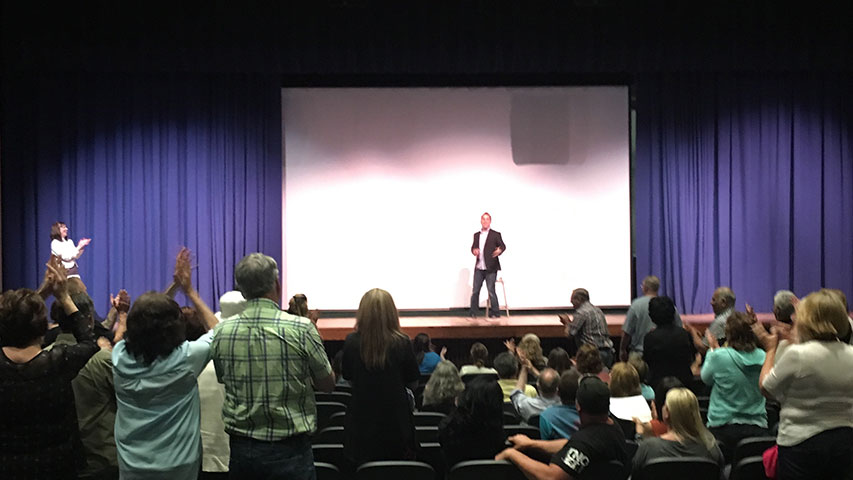 "John Felts did a fabulous job in helping our event become a huge success. He was very personable to our area and to our organization. He took the time to research our company and even cracked a few jokes regarding our Facebook profile which was awesome. He was very engaging with our audience and even brought someone on the stage to interact with. I would recommend him to anyone who is looking for a clean, full of laughter and all around great comedian. He shares funny stories of his family life that we can all relate to. I will definitely hire him again in the future for any comedian show/event we have. The feedback from our audience was great. Thank you John! You rocked it." - Founder, Comedy Night Fundraiser (Fitchburg, MA) 5/27/2017
---