Virginia Christian Comedian for Hire
Show your clients, employees, families or loyal customers a good time through John's clean and carefully put together set. You are guaranteed to see lots of laughs, smiles and possibly a fellow audience member on stage!
Nationally-touring Christian comedian John Felts has recently performed in: Culpeper, Emporia, Grundy, McLean, Radford, Reston, Richmond, South Hill, Williamsburg, Winchester, Woodbridge, VA and other cities.
Upcoming Schedule
| | | |
| --- | --- | --- |
| 12/5/2019 | Williamsburg, VA | Winter Conference |
Recent Reviews from Virginia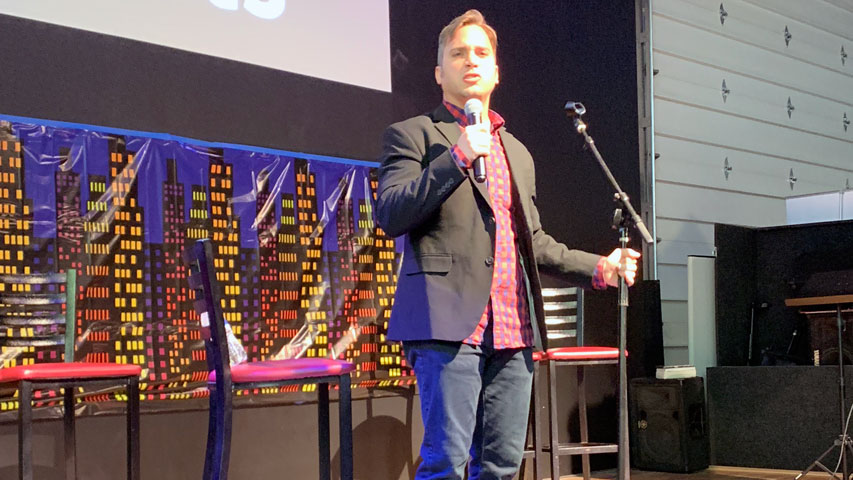 "Come Laugh With Me" Date Night in Culpeper, VA
Despite being sick, John Felts delivered a powerful, energized, hilarious performance to our church's marriage event! Couples had the chance to laugh together through John's comic routine, which provided them with much needed reconnection and healing! John did his homework about our church and community to customize his material and make it relevant to our specific church and area! He is truly a gifted professional comedian and an amazing, very personable performer! May God Bless John Felts family and career abundantly more than he ever thought to ask! I highly recommend Comedian John Felts!"
- Marriage Ministry Leader, Mountain View Community Church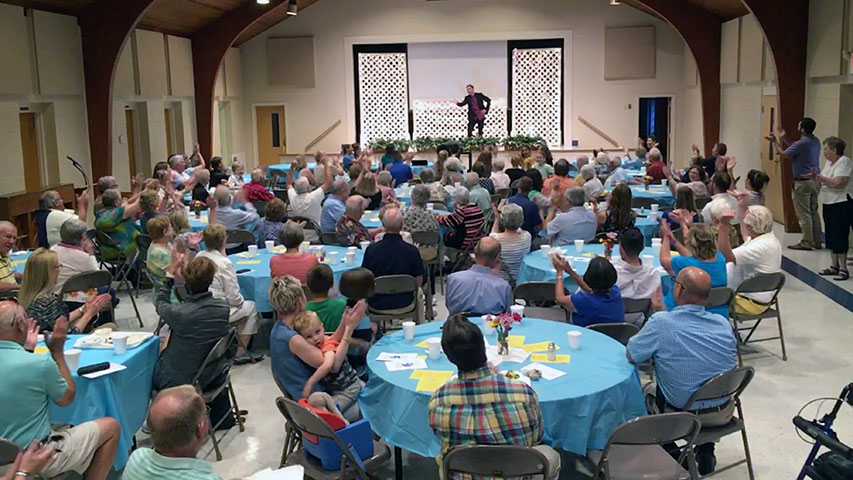 Church Service in Richmond, VA
John Felts is very personable and easy to work with. He does his homework and he knew who we were and he personalized his show and helped us laugh at ourselves. We had such a good time with John, we would recommend him for any venue! Comedy is subjective, but we all had good belly laughs with John. Thanks for a great show John!!"
- Pastor, Derbyshire Baptist Church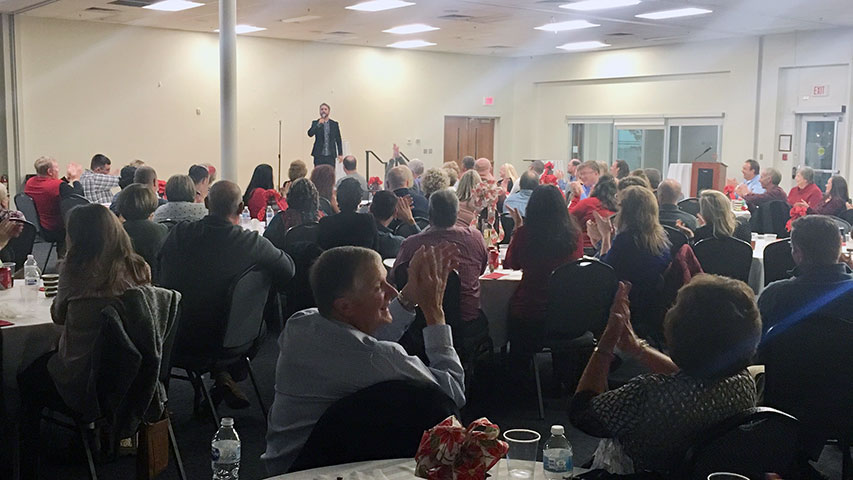 Employee Christmas Dinner in Grundy, VA
John Felts gave a great performance at our Bank's employee Christmas Party! Everyone is still talking about how much they enjoyed the evening. I was impressed that he customized his performance to our group and also that he visited with employees during our dinner. Definitely recommend him for company events!"
- Human Resources Director, TruPoint Bank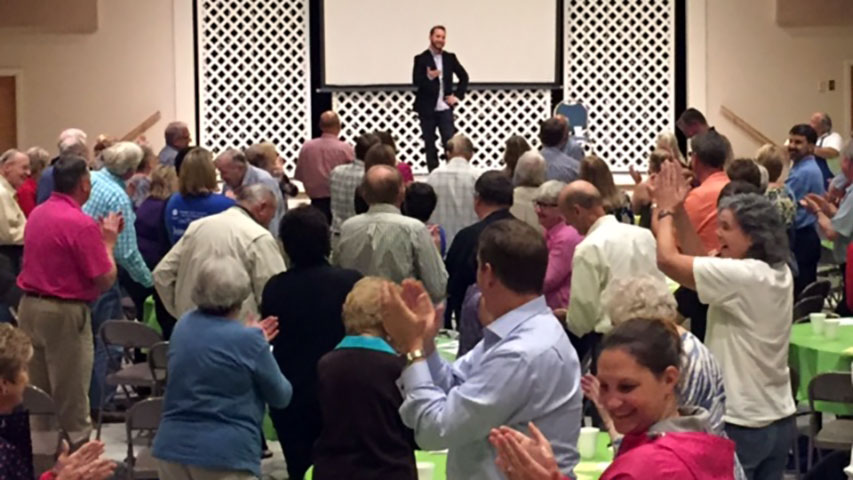 Young Families Dinner in Richmond, VA
I wanted to let you know how much we enjoyed John Felts and his comedy. He was so well prepared and his jokes were fresh. He helped us laugh at ourselves and look at the humorous side of who we are. It was laugh out loud funny - over and over again. As a matter of fact days after the event we are still laughing. We are trying to plan another event just so we can have John back again. I highly recommend John Felts for any group that wants to laugh and have a great time. Additionally John is easy to work with and he was a pleasure to meet. We know that anyone how invites John to be apart of their events will be thoroughly satisfied."
- Pastor, Derbyshire Baptist Church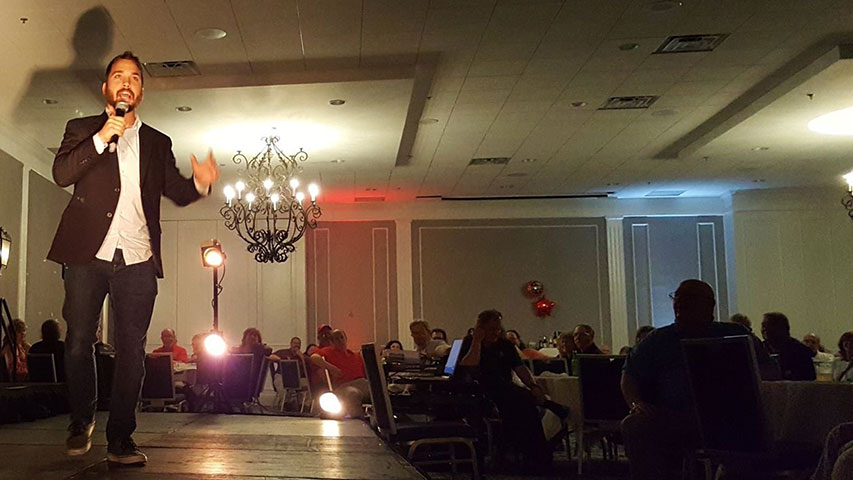 Annual Meeting in Williamsburg, VA
John Felts nailed it and our group was still talking about his performance at the end of our convention. John's ability to personalize his show, adjust quickly when needed, and feed off on how the audience was responding to his material is a true testament of his character and professionalism. Well done and I hope we have an opportunity to have him at a future convention."
- Convention Chair, Virginia Knights of Columbus
Company Holiday Party in Reston, VA
John Felts was prompt, interacted with the audience, and his material was well received. We had a great time and the reviews were positive. Thanks again."
- CEO, Cloudistics
Company Christmas Party in Radford, VA
John Felts arrived early and mingled with our employees. He has such a great personality that everyone was liking him even before the program started. John's performance was hilarious and appropriate for our mixed group. The employees are still talking about him. I would definitely recommend John."
- President, Harvey Chevrolet Corp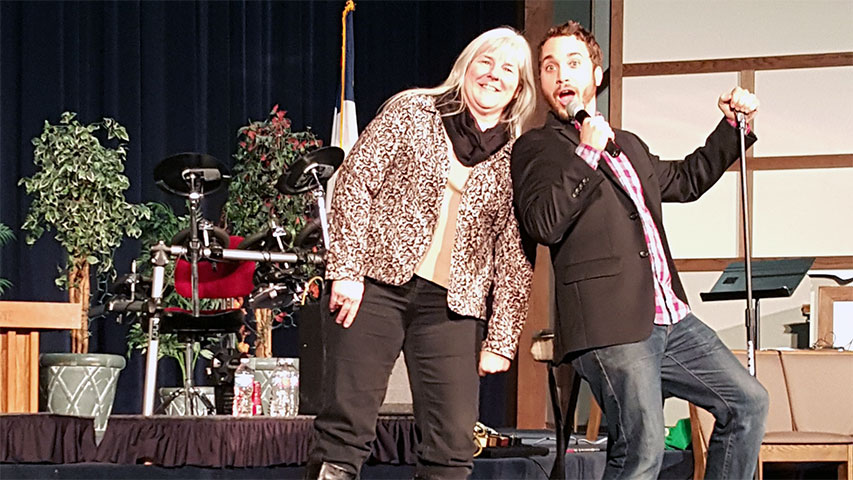 Comedy Concert in Winchester, VA
John Felts was great at communicating with us before and after the event. Everyone had a wonderful evening!! The feedback has been very positive - yet again!! John is super to work with and has such a gift of improv. He just rolls with things and works off the crowd perfectly. This is the second time we have hosted John and have been extremely pleased both times. The folks who had heard him the first time were very excited when we announced he was returning, and they were not disappointed! Crowd size was great despite basketball games going on simultaneously at the school, which is attached to the church. His magic card trick at the end of the night was really fun - great way to end the night. Thank you and we look forward to working with you and John again in the future!"
- Deacon, Church of Christ Mountain View
Christian Concert in Winchester, VA
John Felts was very friendly and definitely engaged the audience extremely well. He was quick witted and funny, and was very entertaining for the entire hour. He stayed after the show and talked with and took photos with the folks. We had a great evening and we would love to have him back again!!"
- Deacon, Church of Christ Mountain View
Senior Banquet in Woodbridge, VA
John Felts exceeded our expectations in every way. He was prompt, professional, and truly connected with our students. In fact one student compared him to Jonathan Winters, high praise from my perspective. His material was spot on, that is general and specific to our campus. We look forward to having him back at some point."
- Chief Operating Officer, Valley Forge Christian College
Light the Night Christian Youth Rally in South Hill, VA
John Felts did a wonderful delivering a great message to the youth of our community. Even with all the excitement of New Years, he had our youth and young at heart was able to instill a very appropriate and important message. Thanks for working with us on this event!"
- Founder, Light The Night Ministries, Inc.
Corporate Holiday Party in McLean, VA
John Felts was excellent! I can't rave about him enough. He was a huge success with the crowd and with my boss (which certainly made me look good too!). Everyone was laughing hysterically, and he did a great job of involving the crowd. He arrived early and got to know some of the guests which helped incorporate them in his jokes. He and your company will definitely come highly recommended in the future. Thanks for all your help. He truly was hilarious and talented!"
- Office Manager, Spire Investment Partners, LLC