North Carolina Christian Comedian for Hire
Show your clients, employees, families or loyal customers a good time through John's clean and carefully put together set. You are guaranteed to see lots of laughs, smiles and possibly a fellow audience member on stage!
Nationally-touring Christian comedian John Felts has recently performed in: Asheville, Boone, Burlington, Cary, Chapel Hill, Charlotte, Claremont, Clemmons, Clinton, Falcon, Fayetteville, Fort Bragg, Goldsboro, Graham, Greensboro, Kings Mountain, La Grange, Lake Junaluska, Lexington, Lumberton, Matthews, New Bern, Oak Island, Ocean Isle, Raleigh, Tabor City, Wadesboro, Wilmington, Winston-Salem, NC and other cities.
Recent Reviews from North Carolina
Comedy Night in Burlington, NC
John Felts was amazing! This was the second time we had hosted a John Felts Clean Comedy Show in the past 15 months. When John first came, he kept our folks in stitches laughing so hard, for a full 75 minutes! This next time – he did it again! John has a unique way of connecting with his audience, with folks of all ages. He does this, among other things, with a self-deprecating approach that is genuine, and that draws the audience to himself. His engagement of folks in the organization he is working with is another thing that sets him apart. I love how he perused our social media pages and uses what he finds to add to his show. He makes the audience feel that they themselves are a part of the show. John's energy is boundless. There is no organization for which I would not recommend him! There is no better entertainment value!"
- Lead Pastor, Integrity Church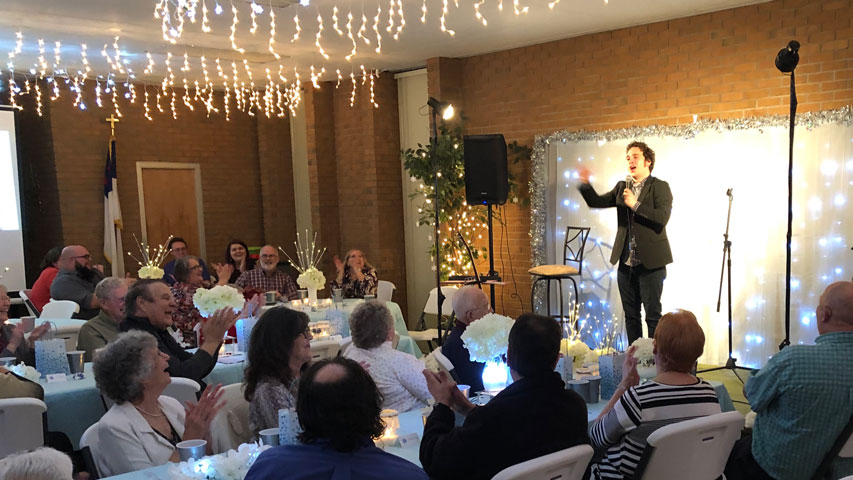 Member Appreciation Banquet in La Grange, NC
John Felts was amazing!! He customized his material to fit the group - it was absolutely perfect. He had us rolling on the floor with laughter. He connected with everyone in the audience. The material and delivery was just simply amazing. I lost count of the members that told me that this was one of the best nights of their life and that they hadn't laughed this much in years. John has a wonderful personality and was professional at every moment. We could not have been any more satisfied with John's performance."
- Event Planner, Walnut Creek OFWB Church
Comedy Show in Wilmington, NC
John Felts was one of two featured comedians on the bill of our Comedy Show for racial unification. He was hilarious and had the very diverse crowd fired up and laughing very quickly. He's a real pro. We also very much appreciated the clean comedy and felt John's jokes were very tasteful. He was also great interacting with the crowd. Everyone I spoke to after the event was saying how much the enjoyed him. We definitely hope to have him back sometime soon."
- Assistant to the Director Superintendent, North Carolina Conference of the United Methodist Church, Harbor District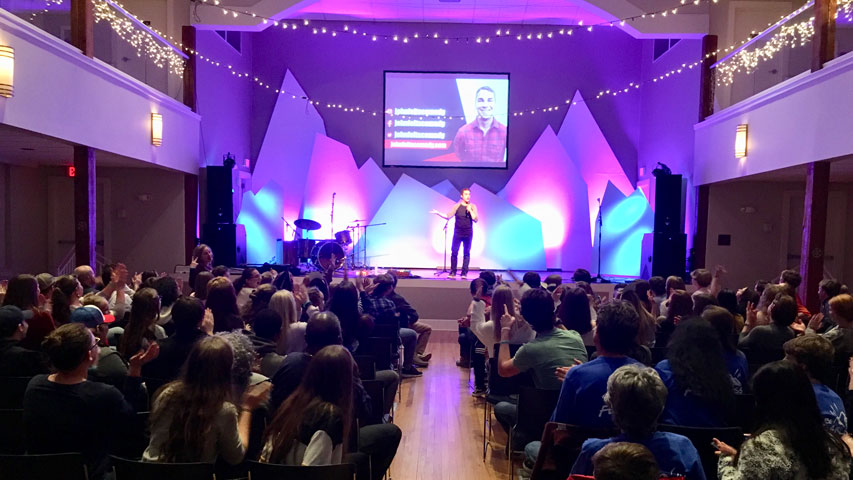 Christian Youth Retreat in Lake Junaluska, NC
John Felts is professional and easy to work with. I really appreciated that John went the extra mile to research the youth groups that would be present at our event and to incorporate things from their environments into the show. The attendees were surprised and honored that he took the time to know them."
- Director of Programming, Lake Junaluska Conference & Retreat Center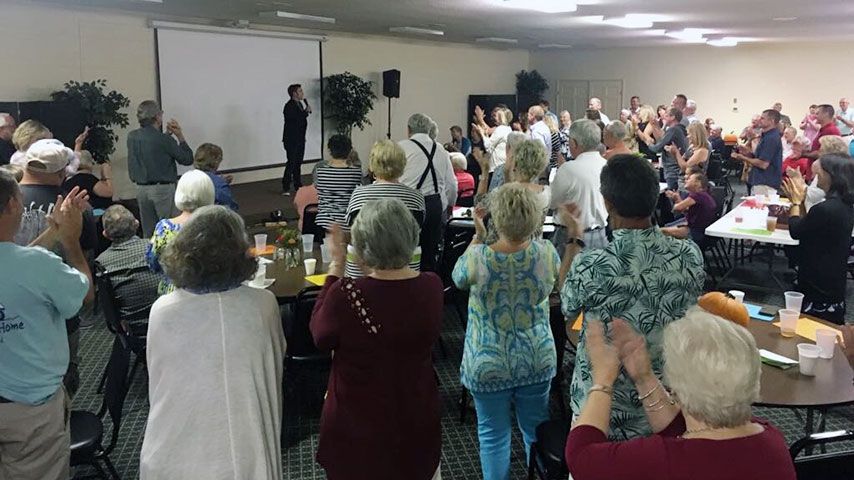 Fundraiser in Lexington, NC
John Felts was a phenomenal comedian! He did an outstanding job researching our church and community. The crowd LOVED how he incorporated the information into his jokes! John truly has a gift. He could tell jokes right off the cuff and they were hilarious! He has such a great disposition and was so easy to work with. It was like we knew him for years. His generosity towards our fundraiser was so gracious and thoughtful. We thoroughly enjoyed his comedy act and we hope to have him back in the future! I highly recommend John Felts for any event."
- Deacon, Becks Reformed Church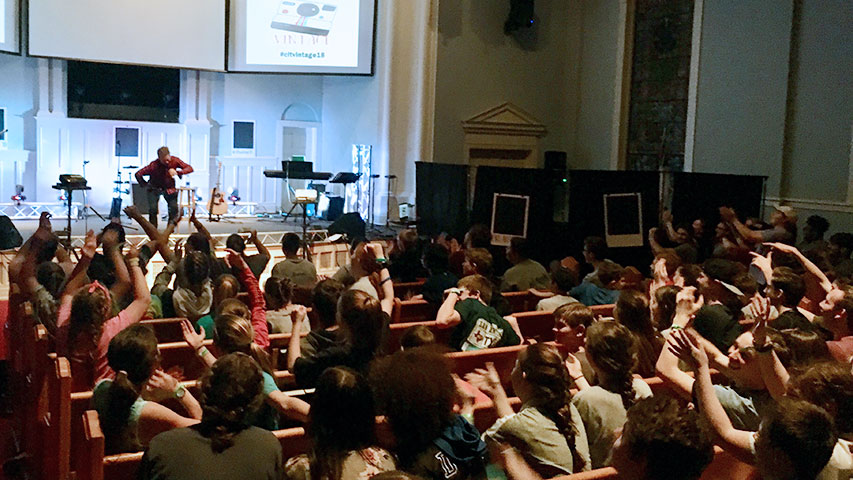 Youth Event in Matthews, NC
John Felts was funny and adapted his show to the audience. He did research about who was there so the audience felt like they were a part of the show."
- Youth Pastor, Idlewild Baptist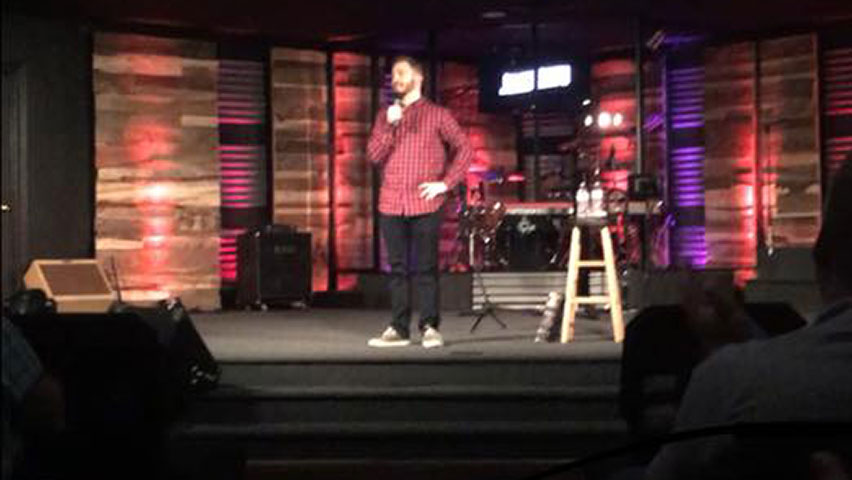 Comedy Night in Burlington, NC
John Felts' comedy show was exactly what we were looking for and more. John was the perfect mix of comedy and real conversation about current issues in our personal lives and in our world. On top of that, John Felts is just a great person to hang out with. John genuinely wanted to know about the church and how it was doing. John also wanted to know about the community so that he could fit the overall show to the community to touch as many people with laughter as possible. His personal touches, stories, and relevancy reached the oldest woman in our audience right down to the teenage students. Would we highly recommend John Felts? OH YEAH!!"
- NextGen Pastor, Integrity Church
Youth Winter Retreat in Lake Junaluska, NC
John Felts performed at one of our Winter Youth Retreats in front of a multi-denominational audience of about fifteen youth groups from churches across the Southeastern US. The youth and adults alike laughed constantly as he shared jokes and observations about parenting, youth group leadership and particiaption, church life, school life, marriage and more. He took time before his show to learn more about who was present in the audience and drew from that to ensure the audience felt he knew and understood them. He communicated well prior to the engagement, was on time for the show, worked well with our event leaders and tech crew, and showed real interest in our organization. I will certainly consider booking him again."
- Program Director, Lake Junaluska Conference & Retreat Center
Launch Event in Greensboro, NC
John Felts killed it! Everyone had a great time and as we encounter people who were there the first thing they say is they loved the comedian! He helped us make a good impression on the people who we believe will be key to bringing our ministry into the next chapter of its evolution, and that is very important to us and the ladies we serve and will serve."
- Business Director, Freedom House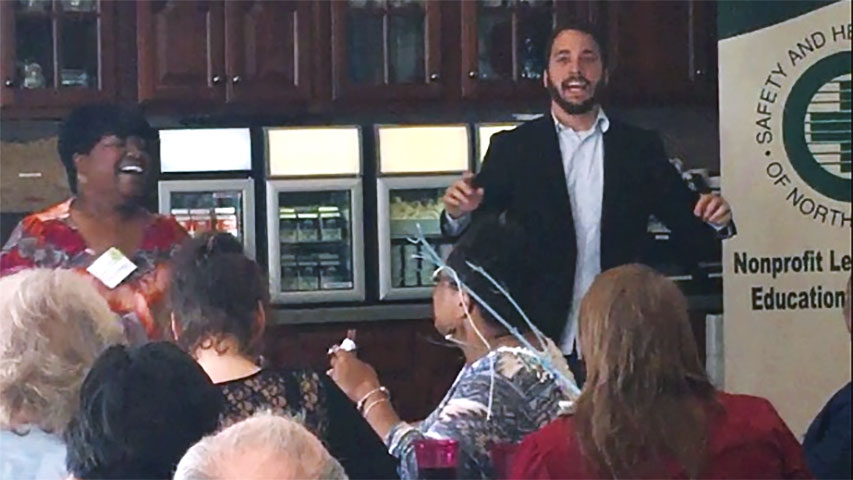 Annual Community College Training Agencies Conference in Ocean Isle, NC
John Felts was funny and fit in great with our group. I was impressed that he had done research on our association and created some PowerPoint slides specific to us. Great job!"
- President, Safety and Health Council of North Carolina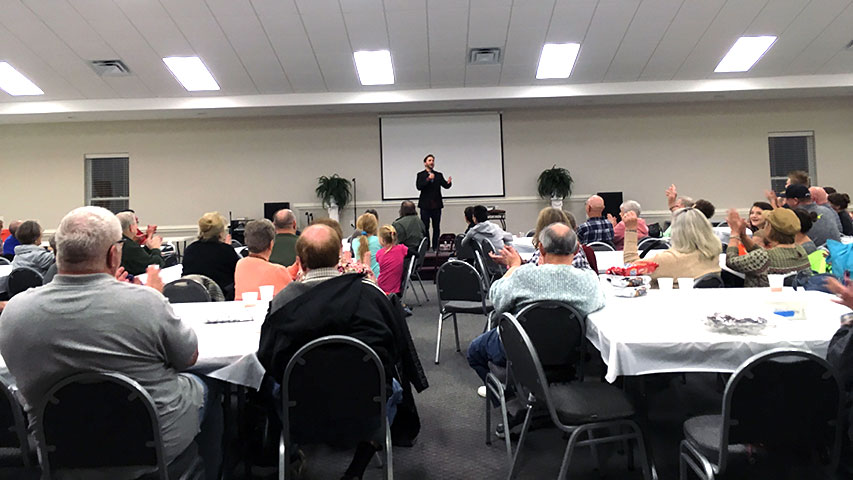 Renewal Weekend in Winston-Salem, NC
John Felts provided us with exactly what we were looking for and more! Our goal was to provide an evening of fun and fellowship for our congregation and just enjoy being together. John masterfully made that happen! He communicated well before the event, arrived on time, and captured our folks full attention from the moment he walked on stage. He was very engaging, funny, and professional. The hour flew and I would definitely recommend him to any church or group looking for an evening of clean fun and laughter."
- Senior Pastor, Robinhood Road Baptist Church
New Year's Eve Service in New Bern, NC
John Felts exceeded my expectations. He responded to emails, texts, etc in a timely manner, even though it was his busy season. He was early to the church, which allowed our production team to be ahead of schedule. He was very professional as well as very personable. He made his show reflect who we are as a church, which was awesome. Our church was over the top excited that he was here and related very well to his show. They got into it. We will definitely have John Felts back to our church for future events and I will recommend him to anyone."
- Lead Pastor, Latitude Church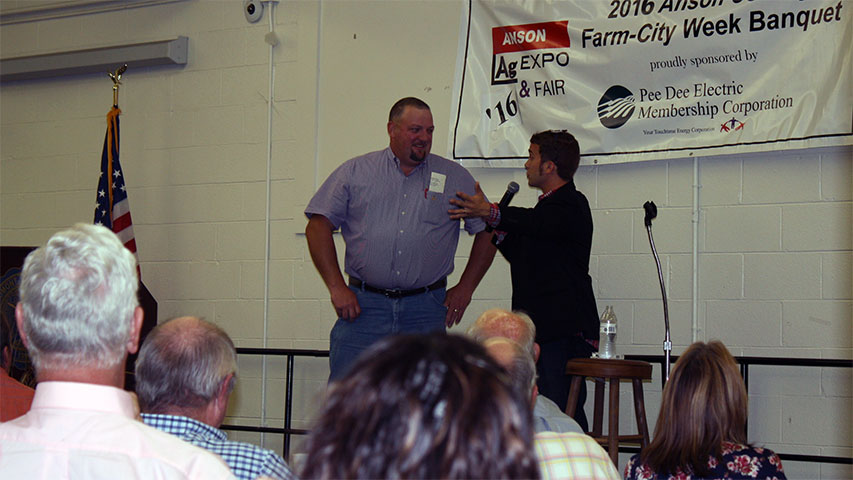 Farm-City Week Banquet in Wadesboro, NC
We had a wonderful time with John Felts at our Farm-City Week Dinner. He was super! He arrived early, mingled with the crowd, picked out some great ones to pull up on stage, and made everyone feel right at home. The audience LOVED the dyslexic card trick. Too funny. We would recommend John to any group. Super super professional."
- County Extension Director, Anson County Cooperative Extension
Converge Youth Concert in Claremont, NC
Our evening went well and John Felts was a big part of that. The response to his show was excellent and he was able to connect with the crowd. My experience with your agency was positive also. I wouldn't hesitate to use John or your agency again in the future. Thanks for everything."
- Youth Director, Bethel Lutheran Church
Fundraiser Gala in Fayetteville, NC
John Felts was a big hit at our gala. The audience loved him and cannot stop talking about him. He was very personable with our group and we felt like he was one of us. Thanks again for helping to make our event a success. I look forward to working with Mr. Felts in the future."
- Family Life Ministry Leader, Fayetteville SDA
Valentines Banquet in Cary, NC
John Felts was fantastic, and he certainly met our expectations. He arrived several hours prior to the event, plenty early despite winter weather that could've hampered his travel. He was completely professional throughout the entire time he was with us, whether on stage or off. Our entire audience seemed to enjoy his performance, and I had several come up to me and personally say it was the best event they've ever attended at our church. After his performance, he made remained accessible to the audience so they could come and greet him, which many did. I'm a particular person when it comes to communication, and each time I contacted John prior to the event, he always responded to me quickly and provided me with answers and advice as needed. I would definitely recommend John as a performer!"
- Committee Chair, First Baptist Church
Annual Holiday Party in Chapel Hill, NC
John Felts was outstanding to work with. Very funny and a great communicator. He was organized, easy going and interactive with the crowd. I was really pleased that he researched our company ahead of time and delivered custom content. We'll definitely book him again!"
- Global Account Executive, VMware, Inc.
Company Christmas Dinner in Boone, NC
Everyone enjoyed John Felts and his performance. We provided him with some information about our employees and he did a little of his own research during the dinner to come up with some very funny one-liners. Once again we were extremely happy with the entertainment provided by your service. Thank you for providing clean event humor."
- Project Manager, Maymead, Inc.
Directors Conference Dinner in Wilmington, NC

Fall Rally in Charlotte, NC

ISES Trinity Awards Gala in Raleigh, NC
John Felts was awesome! He: was responsive, kept in communication with us several times before the gala, was on time for the dress rehearsal as requested, worked well with the emcee, made up great jokes ahead of time and on the fly based on what was happening at the time (shows me he was paying attention), had great energy during his performance, and was well dressed (dark suit at the black tie optional event). We had great feedback from gala attendees (thought he was funny). Jokes were appropriate, relevant and clean. It was a pleasure working with John on this gala and we thank him and you for your willingness to help with this element of entertainment."
- Vice President, International Special Events Society
Annual Conference in Wilmington, NC
We were honored to be entertained by comedian John Felts. He arrived several hours before the show to check in with our group to ensure everything was set up and to ask any questions he had to ensure a successful performance. He also allowed us time to ask him questions we might have. John asked our Association's officers about our group to get a feel for what folks at our conference did in order to try to better enhance the audience's enjoyment. John then arrived early for the show. He sat at one of the reception tables and interacted with those at the table which they very much enjoyed. Later, he was able to incorporate a sense of bonding into the show based on his interaction with the attendees at that table. John's comedic delivery was unique, timely and absolutely hilarious. John's comedy was also clean, fresh and moved along without dragging. The audience enjoyed him incorporating his life experiences into his jokes. John was sensitive to the audience. Most of his jokes and stories fit well with most any general audience and were very well received. Our attendees are very diverse, so this worked well. John himself was courteous, professional, engaging, funny, witty and did a great job of keeping the audience involved. I think what I enjoyed most was how very obvious it was that John loves his job and enjoys people. Our group all stayed for the entire performance and gave him a great ovation. A true credit to John connecting with those in attendance."
- Entertainment Committee Chair, NC Training, Instruction, Development and Education
Junior-Senior Banquet in Goldsboro, NC
Just a quick note to let you know that everything went well at the Junior-Senior Banquet last week. John Felts was a hit with the audience. The students were making favorable comments about him and the event as they talked on Monday. I appreciate your helpfulness and look forward to doing business with you again."
- Dean of Students, Wayne Christian School
Couples Date Night in Fort Bragg, NC
Thank you so much John Felts for being a part of our event - couples had an amazing time and a huge part of that enjoyment came from laughter. I remember hearing you say that laughter is the sixth love language and you are absolutely correct. And due to the stresses that our families experience it is a language they can't forget about that - thanks for helping them remember about it. I heard nothing but great feedback about from staff and residents - thank you for helping us create a fun and positive energy for our event. It was a pleasure working with you and Larry Weaver Entertainment and look forward to being able to do so again for future events."
- Resident Relations Manager, Corvias Military Living