Massachusetts Christian Comedian for Hire
Show your clients, employees, families or loyal customers a good time through John's clean and carefully put together set. You are guaranteed to see lots of laughs, smiles and possibly a fellow audience member on stage!
Nationally-touring Christian comedian John Felts has recently performed in: Fitchburg, Webster, MA and other cities.
Recent Reviews from Massachusetts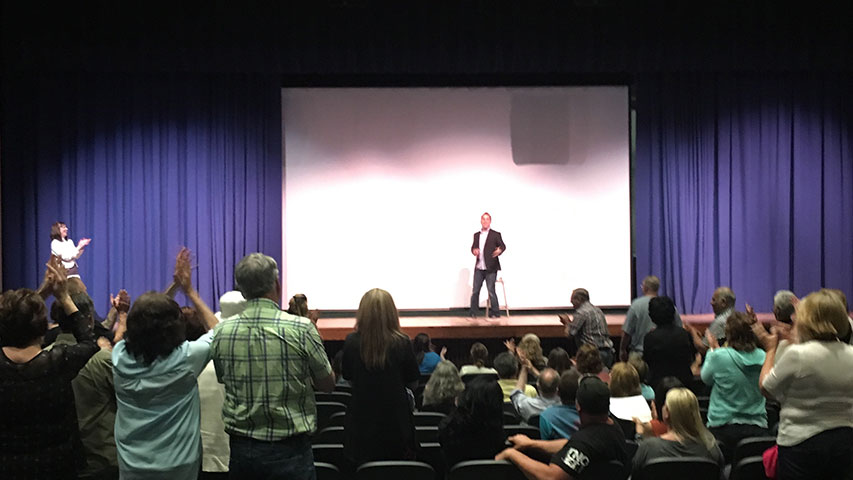 Comedy Night Fundraiser in Fitchburg, MA
John Felts did a fabulous job in helping our event become a huge success. He was very personable to our area and to our organization. He took the time to research our company and even cracked a few jokes regarding our Facebook profile which was awesome. He was very engaging with our audience and even brought someone on the stage to interact with. I would recommend him to anyone who is looking for a clean, full of laughter and all around great comedian. He shares funny stories of his family life that we can all relate to. I will definitely hire him again in the future for any comedian show/event we have. The feedback from our audience was great. Thank you John! You rocked it."
- Founder, Crossing Over Inc.
Fundraiser in Webster, MA
Our church tried it's hand at a comedy show fundraiser. It was a first for us and John Felts and your organization made it very easy for us to entertain our members and friends plus raise the money we expected. John arrived as promised one hour before the show. I introduced him around and he immediately made friends with other members of the church and added some of their ideas into his show. Our audience was of retirement age but John connected with us. His experiences and jokes were related to what our children and grandchildren are going through so we were able to find the humor in his situations. Everyone had a great time and all thoroughly enjoyed John's performance."
- Board of Trustees Chair, United Church of Christ Federated