Indiana Christian Comedian for Hire
Show your clients, employees, families or loyal customers a good time through John's clean and carefully put together set. You are guaranteed to see lots of laughs, smiles and possibly a fellow audience member on stage!
Nationally-touring Christian comedian John Felts has recently performed in: Columbus, Connersville, Elkhart, Evansville, Hartford City, Indianapolis, Jasper, Kokomo, Muncie, Pendleton, IN and other cities.
Recent Reviews from Indiana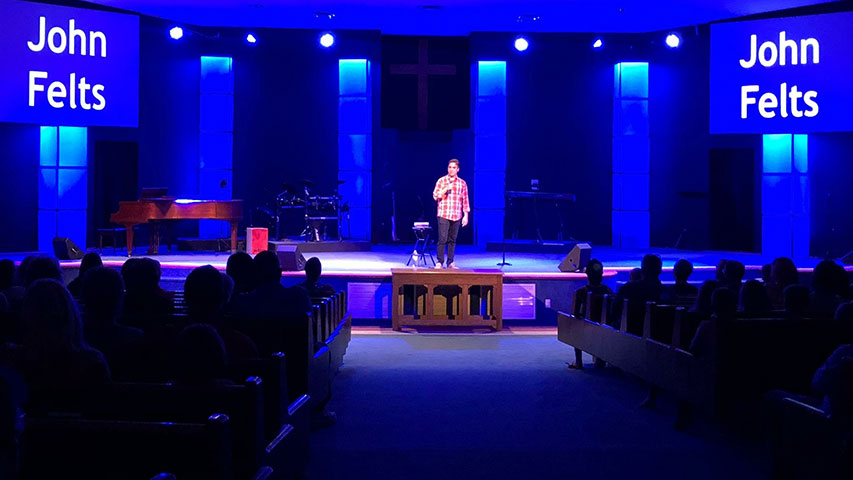 LOL for Hope Fundraiser in Connersville, IN
John Felts did a great job at our first comedy night Fundraiser. Honestly, I was a little nervous with him being relatively unknown around here, but I laughed almost nonstop. I've received great feedback from people as well. He did a great job personalizing his material for our town and especially our Pizza King. He was friendly and professional as well. I'd recommend him for sure."
- Development Team Member, Hope Center
Company Christmas Party in Pendleton, IN
John Felts entertained at our company Christmas party. He was super funny, clean and played to a wide audience. We couldn't have been more pleased with our experience with him."
- Senior Vice President, One Point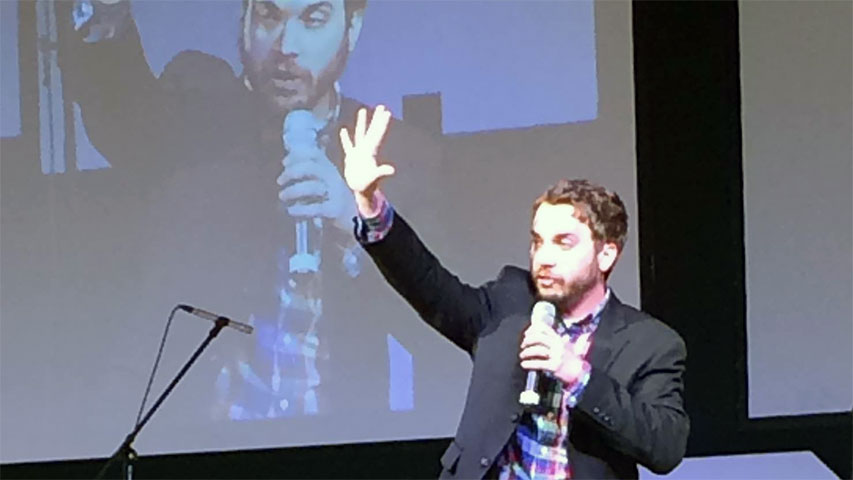 Volunteer Appreciation Event in Muncie, IN
The comedy of John Felts was a big hit at our event. He was very prompt and fit in with our audience very well. The presentation was very good and he used the information I gave him very effectively. The whole experience enhanced our event. Overall, we were very pleased. Thank you. Blessings!"
- Lead Pastor, Destiny Christian Center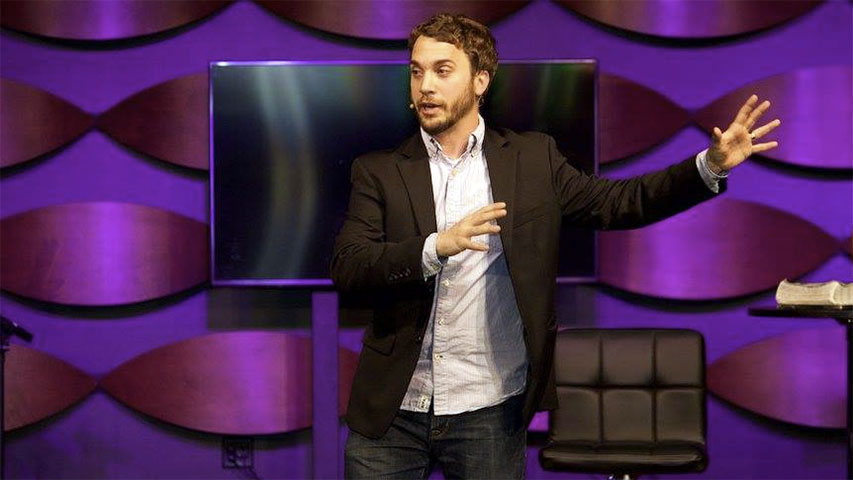 Volunteer Thank You Banquet in Indianapolis, IN
Our congregation LOVED John Felts! He was extremely down to earth, he arrived in plenty of time, interacted with all of our staff and made all of us feel like his friends. His show was fantastic! People are still laughing about many things he said that evening. It was a great evening. Thank you!!"
- Event Planner, Church52
Annual Employee Christmas Banquet in Elkhart, IN
John Felts was great. We were impressed with how prepared he was - you could tell he definitely did his research and it was great how he customized the show for us. He arrived in plenty of time to prepare and made himself at home. Employees really enjoyed his show - they like to laugh. It's getting increasingly harder to find comedians/entertainers that are appropriate for our conservative setting and he was great. Thanks again for helping to make our Christmas party a success."
- Human Resources Manager, Essenhaus, Inc.
Volunteer Appreciation Banquet in Kokomo, IN
John Felts was fantastic! His pre-event communication was excellent, gathering community and church information to personalize his performance. He was prompt, professional, co-operative and thorough in his preparation. He arrived an hour or more before the event for light and sound check, and gave a stellar performance that was enjoyed by all. I think he was the most well-prepared comedian we have hosted. I would recommend him to anyone."
- Lead Pastor, Family Worship Center
Valentine's Dinner in Hartford City, IN
John Felts was amazing, he called several times and communicated with us in a way that I am not use to. I absolutely loved everything about John. I know it is important to have critical feedback, but the truth is he over delivered in every area. We were blessed to have him. We have had several comedians over the past several years, and everyone felt that John was the best yet. I also felt that the Agency was very professional and easy to work with."
- Pastor, Calvary Christian Church
Sweetheart Couples Dinner in Evansville, IN
It was our pleasure to host John Felts. Everyone at our event had a wonderful time. I have received feedback from so many people at our church. In many cases, people have emailed our staff directly and through our church website just to tell us about how much fun they had at our event. That is great to hear almost instant positive feedback from so many different people. We had about 170 in attendance and everyone had a blast. If you ever need a positive reference for John Felts or your agency, then please feel free to have anyone call me. Since this is only our second year to have this event, during the planning stages our staff had many different ideas about how we could improve from last year. However, we were all in unison with one part of the night - we knew we wanted John to come back! He did a great job, he used new material that was not a repeat of last year's jokes, he kept it relevant and clean, and most importantly he connected with our audience immediately. I have had several couples tell me that they were on the fence when considering coming to our banquet, until they knew that John was coming back. Again, that says a lot about his performance! I have been on staff at this church for almost eleven years, and I can't get enough of hearing the laughter from our folks! It truly came at a great time for many of our couples who just needed a night away from the kids and some great entertainment. Thank you for all you did to make our event a success, and please pass on to John Felts that we were blessed to have him back. Absolutely blessed. His great talent and gift for comedy led to much needed laughter and joy for so many people at our church. What a great night!"
- Pastor of Worship and Young Adults, Oakhill Baptist Church
Fundraiser in Jasper, IN
John Felts was a wonderful fit for our fundraising event. He was timely, professional, connected well with the audience and most importantly kept everyone laughing. I even saw a few folks laughing so hard they had tears in their eyes. Personally, I noticed that my cheeks were actually hurting from smiling and laughing so hard! This was our first comedy fundraising event, and I think the event planning committee easily agrees with me that we would love to have John back for another event in the future!"
- Development Coordinator, Ronald McDonald House
Sweetheart Couples Dinner in Evansville, IN
John Felts did an amazing job! Our audience loved having him here. His approach was perfect for our event, and he did a great job of making many of his jokes very specific to our event and even our area. This is my first experience hiring a comedian. To be honest, I had no idea what to expect. I was very nervous that this would end up being a train wreck. However, John's performance made me look like a genius! He nailed it! People loved it! I would give John a glowing review any time you need it. You can even have people call me. Great guy, Great comedy, and Great night! Our people were literally forming a line to get to John after the show to tell him how much they enjoyed it! We had a audience in age ranges from young couples to senior adults. EVERYONE enjoyed John's performance."
- Pastor of Worship and Young Adults, Oakhill Baptist Church