Georgia Christian Comedian for Hire
Show your clients, employees, families or loyal customers a good time through John's clean and carefully put together set. You are guaranteed to see lots of laughs, smiles and possibly a fellow audience member on stage!
Nationally-touring Christian comedian John Felts has recently performed in: Adairsville, Alpharetta, Brunswick, Jesup, Maysville, Tifton, GA and other cities.
Recent Reviews from Georgia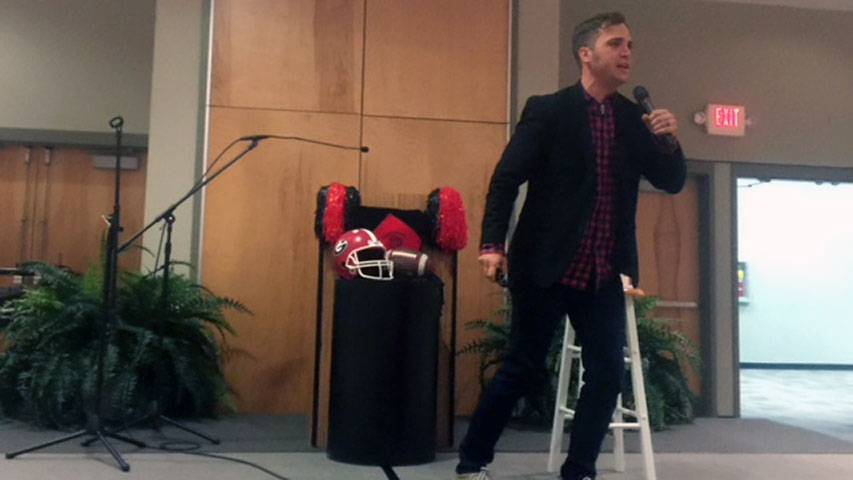 Annual Fundraiser Banquet in Tifton, GA
John Felts did a wonderful job at our event. He really pulled the audience in; every age group seemed to enjoy it. We had some great laughs at our banquet. I will definitely recommend him to others. He even promoted our ministry for us. I give him 5 stars."
- Executive Assistant to Director, Lifehouse Ministries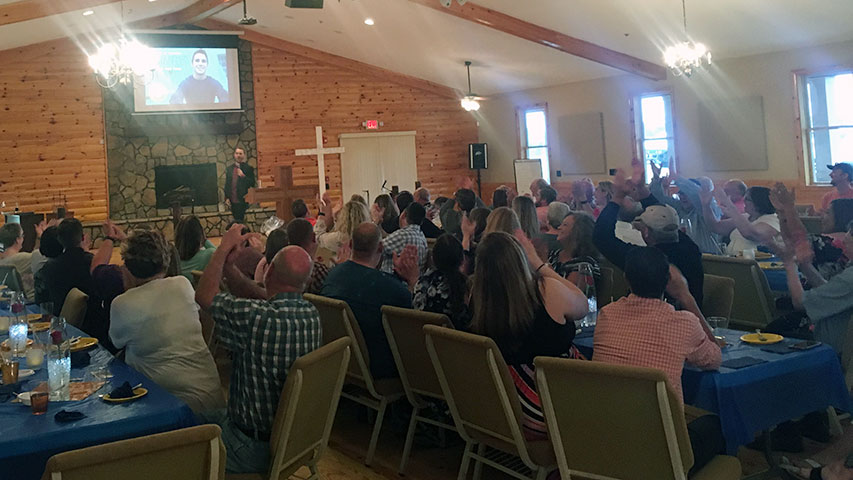 Church Date Night in Maysville, GA
John Felts was amazing!! What an awesome comedian!! Such an extremely funny, professional, and personable individual. Everyone from the church that attended the event is still talking and laughing about him - so much fun!! Highly, highly recommend John Felts for any event!!"
- Women's Leadership Team Staff, Maysville Baptist
Company Christmas Party in Alpharetta, GA
I have spent most of this morning receiving compliments and positive feedback from the employees on the performance. John Felts was personable and had the room rolling in laughter. He was very professional and easy to work with and I would love to book him for any future events we have."
- Accounting Specialist, Cowart Mulch Products, Inc.
Family Comedy Night in Jesup, GA
John Felts was brilliant! We absolutely loved him. He was a joy to work with before, during, and after the performance. I have heard nothing but rave reviews from everyone who attended. He was so funny and relevant that everyone of every age was laughing. He was absolutely professional through every conversation we had with him and it made me confident I had made a good choice with him. He really exceeded every expectation that I had. I have been approached several times by community and church members telling me how much they loved him and what a great show it was. I literally had a hard time walking through service the next morning from people hugging and thanking me for finding him. They were still laughing and smiling about his show the next day! Before he even arrived, I knew he had put in so much effort to learn about this community and do research. I was so impressed with him. I could honestly go on for an hour about it lol. How much time you got this morning? I've had lots of people already ask if I'd bring him back next year. I'd bring him back WEEKLY if I could. I wish there were adjectives I could think of that were better than great, awesome, wonderful. We were able to raise about $2,500 the scholarship fund and I just could not be happier."
- Administrator, Epworth United Methodist Church
Coaches Night Out in Brunswick, GA
John Felts exceeded my expectations. He sat with a table of coaches and interacted with them before his show and did a great job of making it personal! He arrived over an hour in advance of his scheduled performance and did a thorough venue and sound check, and also cordially greeted and met with everyone involved in the event. He is a genuinely nice guy and was very kind and respectful with everyone he met. He was at his best when he was riffing off what he picked up on about them personally from comments they had made earlier, what they were wearing or how they reacted to a joke or comment he made on the stage. He made a real effort to learn our community and connect with it. Everyone present had a great time and all the feedback has been very positive. He made us look good. Funny, kind and professional, things we would all like to project! I give my personal endorsement of him and his show to anyone inquiring!"
- Area Director, Golden Isles Fellowship of Christian Athletes